Posts: 769
Joined: Tue Jul 15, 2014 2:24 pm
Mon Jun 04, 2018 3:11 pm
Lewisbeecham wrote:

Kyle wrote:In total I can see the following new stations on the map:

In Cardiff:

The Flourish
Loudon Square
Cardiff Parkway
Gabalfa
Crwys Road

In Newport:
Llanwern

In RCT:
Movement of the Trefforest station to Nantgarw
Miskin

There's a new one in Aberystwyth too.

So this is completely seperate to the Metro? So we could see plenty of extra light rail in Cardiff?
I haven't read enough yet, and have only bothered looking at the metro map rather than any non Cardiff Capital Region services (which is what the Metro is covering I guess).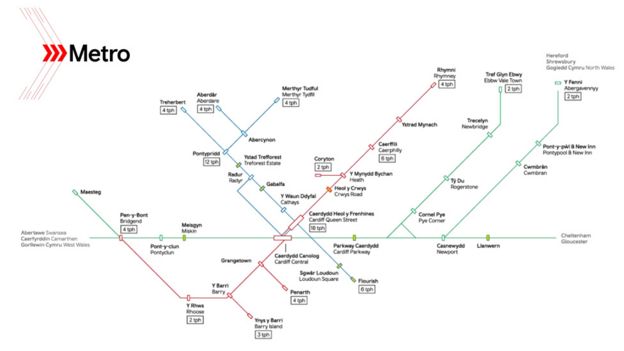 It's basically all the existing regional services as far west as the Bridgend area and as far east as the various towns in Gwent.
Longer term I'd really like Transport for Wales expand this so that we do get that line from Central to the Bay, more services to areas of Cardiff that have never had a train line running through them (like the newer suburbs). Outside of Cardiff surely Newport and the Gwent Valleys are a candidate for expansion. Ebbw Vale into Newport, a tram from Pontypool into Newport via Cwmbran, maybe the Caerphilly to Newport.
We could go on forever making up new stations, new lines etc. It really is a long term project beyond the 2024 date...but it all costs money and the lines have got to be viable. But look at how popular the Ebbw Vale line into Cardiff has been.
There's got to be a balance, and Cardiff has gained a few stations in this plan, which is good because other places in the area have had new stations over the last 20 years as well.